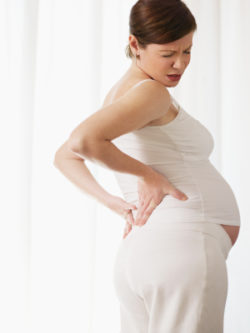 One of the most common symptoms that women suffer during pregnancy is back pain. So much so, that if you mention that you are suffering lower back pain during pregnancy to a doctor or an obstetrician they will reassure you that it is a normal symptom of pregnancy. However back pain is not normal. Pain is a sign that something is inflamed and with appropriate treatment your pregnancy can be wonderfully free of lower back pain.
The difference with lower back pain in pregnancy is just that there is extra weight on the joints of the lower back. Once the inflamed joint has been identified and treated the pregnancy can continue without the lower back pain.
The major concern for pregnant women is that chiropractic treatments might have an adverse affect on the unborn baby. Chiropractic manipulation can be safely performed on all levels of the spine throughout pregnancy. This is especially true if you have had chiropractic treatment prior to being pregnant, as your body is already used to being treated and the treatment should only involve a little fine tuning to keep the spine healthy and mobile. If your body has never had any treatment before then it will take time to adapt and respond to the manipulation. Whilst this is not a contraindication to manipulation during the first trimester many women choose to wait until they are past the first three months before beginning treatment. In many cases though your body will be much better for having had treatment and this can only be of benefit to mother and baby.
Pubic symphysis pain and headaches are common symptoms of pregnancy and these symptoms often continue for weeks to months after the baby has been delivered.  The forces applied to the pubic bones can cause misalignment of the pubic bones and even separation of the pubic symphysis.  Recurring headaches are common to women after delivering their baby.  It is not uncommon for the headaches to persist until the pubic pain has subsided.  There are a number of effective chiropractic treatments for misalignment of the pubic bones.
Another common pain during pregnancy is pain around the lower rib cage in the region of the kidneys.  This is often due to pressure from the pregnancy on the lower rib cage towards the end of the pregnancy.  Sore ribs can manifest as either a constant localised ache or it can be sharp catching pain that hurts when breathing.  Certain movements will also cause this pain.
Apart from pain relief during pregnancy, chiropractic manipulation also has the benefit of freeing up restriction in the joints of the pelvis and lower back. This may aid in providing a less stressful delivery as the pelvis is more flexible than it would have been without manipulation.