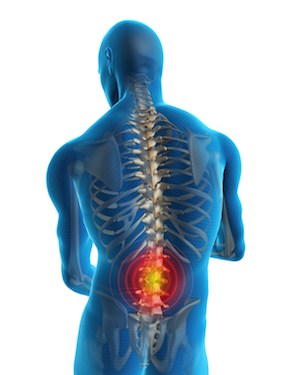 According to the Australia Bureau of Statistics, in 2004-05, 15% of the population of Australia (almost 3 million people) suffered from back pain. Another 15% of the population reported as suffering from arthritis. The ABS reported that 1 in 3 people complained that arthritis and musculoskeletal conditions was their main disabling condition. In 2001-02, $4.6 billion was spent on these conditions. 49% of people over 65 years of age suffered from athritis – a largely preventable condition. Only 10% of people with arthritis consulted a GP or specialist and only 4% visited another health professional. Non-pathological back pain is a condition that can be treated easily. With our understanding of the cause of back pain there is no reason why anyone should suffer.
Managing Back Pain
Get treatment immediately.  Pain is your body's way of telling you that something is wrong. Low back pain will often become a cycle of pain-spasm-pain and so delaying treatment can make the problem worse.
Use ice. Ice reduces swelling and inflammation which is directly responsible for pain. Heat increases the inflammation process and can prolong recovery.
Don't stay in one position for too long.  Avoid resting in bed. Immobility weakens the body tissues and can slow the healing process. Resting is good for pain as long as it is interspersed with periods of gentle movement such as walking.
Avoid sitting during periods of low back pain.  Sitting puts several times more pressure through the disc than when standing.
Try to avoid positions where the back is bent forward such as ironing and washing up.
Dont cough or sneeze when your back is bent forward or turned to one side as this can result in a disc protrusion.
Sleep on your side and alternate between left and right sides during the night. Sleeping on your stomach or back will only make your back worse.
Eat plenty of fruits, vegetables, breads and cereals which are high in fibre. This will prevent having to strain when you're at the toilet.
Limit the use of pain relieving medication.Use analgesics if the pain is intolerable, but only in the short term. Pain killers only cover up the pain while arthritic change continues. Chiropractic care is the best treatment for pain of mechanical origin.