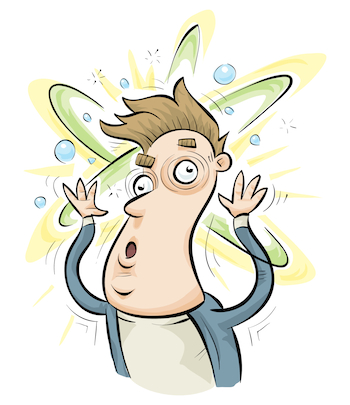 Dizziness, or vertigo, is a very debilitating symptom to suffer from. Many people with pain can simply put up with it and get on with their day however the feeling of dizziness can stop you dead in your tracks.  It is not easily ignored and many people are left to suffer with it for many years.
The most common causes of vertigo are middle ear infection, Meniere's disease, and positional vertigo.  It is this latter cause that is the most responsive to chiropractic care.  Positional vertigo (also called Benign paroxysmal positional vertigo) is triggered when the head is placed in a particular position and severe dizziness is felt until the head is moved into a different position.  Nystagmus (rapid involuntary movements of the eyes) also occurs with positional vertigo. It is often the result of head or neck injury that may not necessarily be traumatic in nature.  Anything that causes inflammation to arise in the upper cervical spine has the potential to cause dizziness.  It is thought that the reason for this is that there is irritation to the proprioceptors of muscles, tendons and joints in the neck which causes abnormal positional messages back to the brain effectively confusing the brain as to where the head is in space.
As the vertigo is triggered by neck movement, chiropractors find that restoring normal neck function by way of manipulation, massage and stretching, can significantly alleviate the dizziness symptoms.  The most common tissues involved in patients presenting with vertigo are the suboccipital muscles which are taut and tender to touch, and the facet joints of C12 and C23.  Of course the biggest concern that chiropractors have with regards to dizziness is that a rare cause of this disorder is vertebral artery insufficiency.  In this condition sudden strong rotational or extension movements of the neck can cause vertigo by reducing blood flow to the brain.  This can also give rise to stroke or stroke like symptoms.  As such it is imperative that vascular insufficiency be ruled out as a cause of vertigo.  This can be done by doppler ultrasound or to a lesser extent by a vertebral artery occlusion test.
Clinically many patients with vertigo respond very well to chiropractic care and are grateful for being able to live without this debilitating condition.  Positional vertigo does tend to recur in much the same way that headaches or general neck pain recurs due to the activities of daily living.