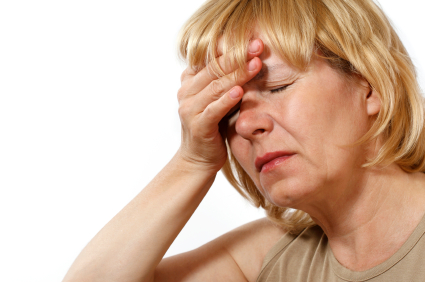 I have recently treated two women who have suffered from headaches for as long as they could remember.  Nora, a 49 year old woman, reported having migraines since she was a teenager.  Her headaches would last for a few days at a time with pain in and around her eyes.  She would be light sensitive and would have blurry vision.  Nora had no neck pain.
Li, a 41 year old woman, reported having headaches around her forehead for as long as she could remember.  Li had nausea, and vomiting with a throbbing headache.  She reported that vomiting used to relieve her headache but not any more. She also had neck pain and lower back pain.
On examination both women were found to have acute inflammation of the facet joints at C23 with muscle spasm of their sub occipital muscles.  Both women had acutely inflamed rib joints at T4 and tight scalene muscles. Both women were treated using chiropractic manipulation, massage and stretching techniques.
Nora found relief from her headaches after the first adjustment.  She has not suffered from a headache since her first adjustment.  Nora found her headaches were originally preceded by light sensitivity.  She still suffered from some light sensitivity after the first visit but it didn't result in a headache which she found surprising.  By the fourth visit Nora was no longer feeling any light sensitivity and was generally feeling much better.  She found that she was sleeping better and was beginning to feel less stressed about getting a headache.  It has now been over four months since her last headache.  Nora had a total of 8 chiropractic treatments over four months.
Li has had 6 chiropractic treatments over a three week period.  It took three chiropractic treatments before her headaches disappeared.  It has now been two weeks since her last appointment and she has been headache free and feeling much better.
One of the common things that we find with pain is that the longer you suffer from the symptoms the harder it is to fully alleviate them.  There are of course exceptions to the rule.  Nora and Li are the cases in point.  Here we have two women that have suffered from headaches for decades and their symptoms were completely alleviated within a few treatments.  So what was the cause of their headaches?  In most cases there is inflammation of one of the joints of the upper cervical spine.  This could have been caused by just about anything.  Once pain and inflammation have started there is often a heightened sensitivity which can trigger headaches from even the slightest stress.  The most common causes of neck pain and headaches are poor sleeping positions, working on the computer and stress.