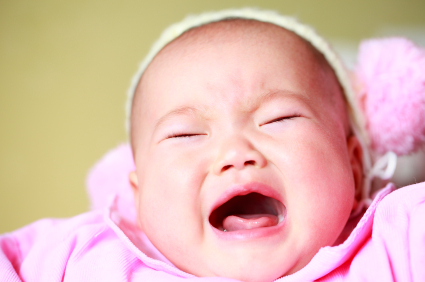 On 24 May 2011 a three month old baby girl was brought into this clinic by her parents who weren't actually chiropractic patients themselves.  They had noticed that she couldn't turn her head to the right side at all.  When she was being changed and when she slept she always had her head turned to the left.  When she was being cuddled she would look at people over her left shoulder but wouldn't turn her head to look at people over her right shoulder.  This little girl had had a normal uncomplicated delivery and was feeding and sleeping normally.
On examination it was noted that she wasn't feverish or unwell.  She was generally settled and happy while ever her head was turned to the left.  She became uncomfortable and cranky when her head was turned towards the right side.  On palpation it was found that she had an inflamed and restricted facet joint at C12 (upper neck joint) on the left causing an acute torticollis, and there was a mild inflamed facet joint at T67 (mid rib cage).
These joints were treated using the activator (a non manipulative, low force impulse instrument) over five visits.  After the first consultation this little girls parents noticed that she seemed more settled and happier than normal but hadn't noticed a great deal of improvement in the amount of movement in her neck.  After two visits she was able to turn her neck to the right better.  Her third visit was eleven days after her first visit and she was able to turn her head to the right with ease although she didn't have full range of movement.  Her last two treatments were each two weeks apart and her symptoms have fully abated.  She is now able to turn her neck fully to the right without any obvious pain or discomfort.  She is also a happier and more settled bub.